Big Sofa launches the brand new Media Lab!
Yesterday, Big Sofa launched our brand new Media Lab!
This represents our biggest upgrade ever, with 21 new or improved pieces of functionality to change how you watch, analyse and build stories out of video. It's been built from our experience of processing and watching 31,000 hours of video over the last couple of years; and from 100s of nuggets of user feedback.
The Media Lab represents a major step forward for Big Sofa in building a platform to harness video as both data and a medium for generating consumer empathy (whilst also solving a bunch of video workflow challenges for researchers along the way…).
A central thought for us was in creating a Lab, not a page - moving from a more static space where you 'View' video to a space where work gets done - a Lab where you engage with, think about and use video to generate better answers and ideas.
The Media Lab helps users create and see patterns in video data more easily than ever before; adds a bunch of UI and workflow improvements; whilst also introducing new collaboration tools and laying the groundwork for our next storytelling upgrade (due in December!).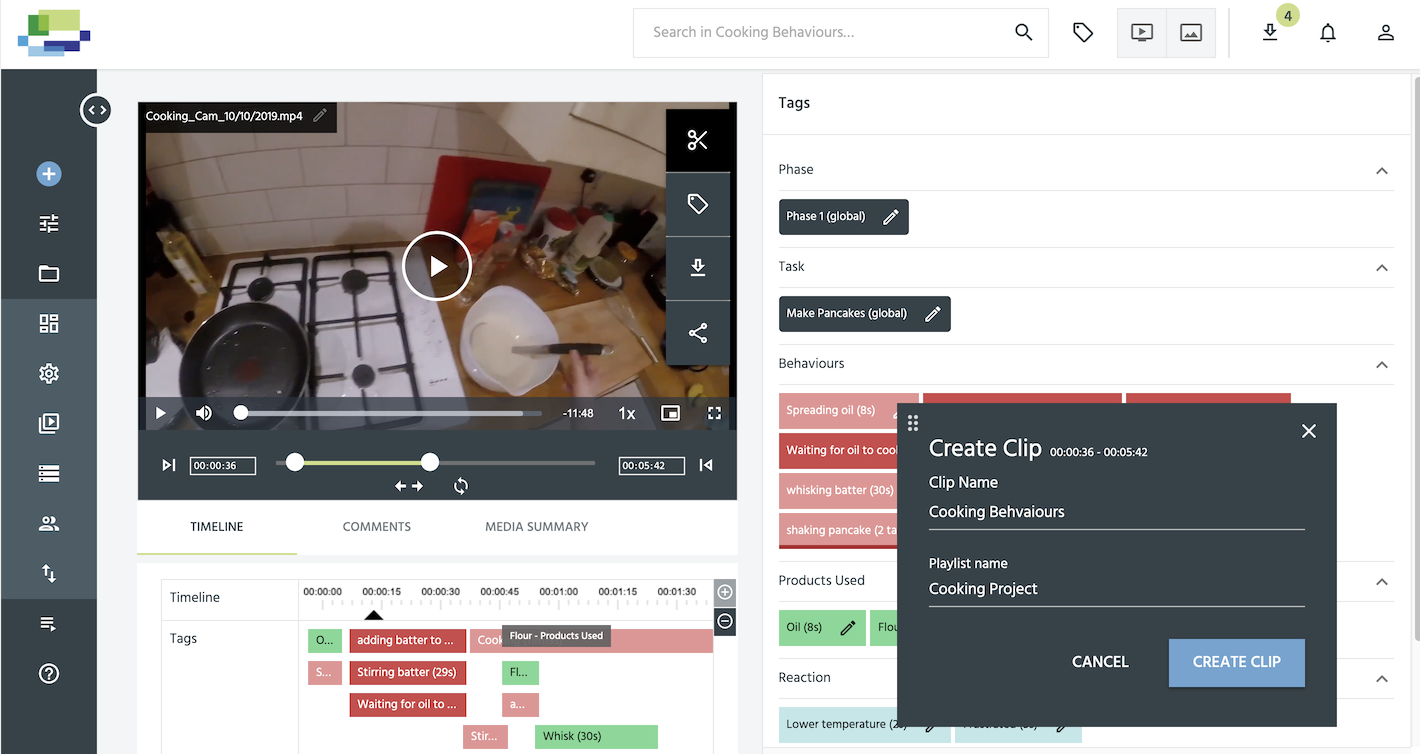 We'll be deep diving into some of the 21 features over the next few weeks; but some of our favourites so far include:
Timeline view: This is our first step into the world of dynamic data visualisation and composite analytics! The brand new timeline view gives you a top down view of behavioural video: to see overlaps, intersections and spikes in multiple types of video data (tags, transcripts, NLP, biometrics….) in real time! You can jump straight to data-dense moments; or instantly visualise slowly unfolding behaviour.
Adaptive layouts, multi speed video, picture in picture and closed captions: This is 4 upgrades in 1! It not only brings us up to scratch with How Internet Video Works in 2020, as well as opening up opportunities for slow motion behavioural analysis; layouts that fit the way you work; and better full screen video viewing!
Timecode and @mention commenting: Clients told us comments are where they build shared understanding. Our team told us it's one of the places they engage and excite clients. So we rebuilt them from scratch to improve collaboration in real time.
Want to see it all in action? Contact your account manager or drop product@bigsofatech.com a line and we'll show you the new tools - and how you can use them to supercharge your analysis and consumer connection!

Plus: watch this space for more details on the upgrades - there's plenty to talk about before we drop our next big release at Christmas!
Happy watching!